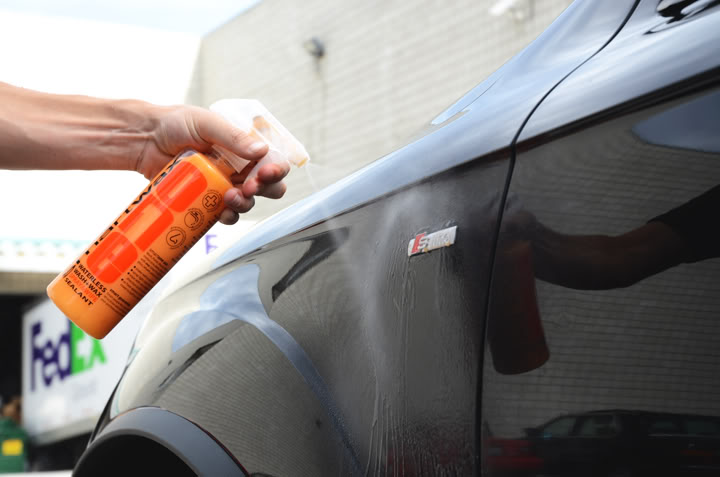 Strategy for an Automotive giant from United States
Go-To Market Strategy for the Automotive Client captured the Business Specifics and Operational Nuances for Indian Market. The methodology involved Primary and Secondary Research, Business Plan, Supply Chain Model, Unit Economics and Taxation.
PROJECT SUMMARY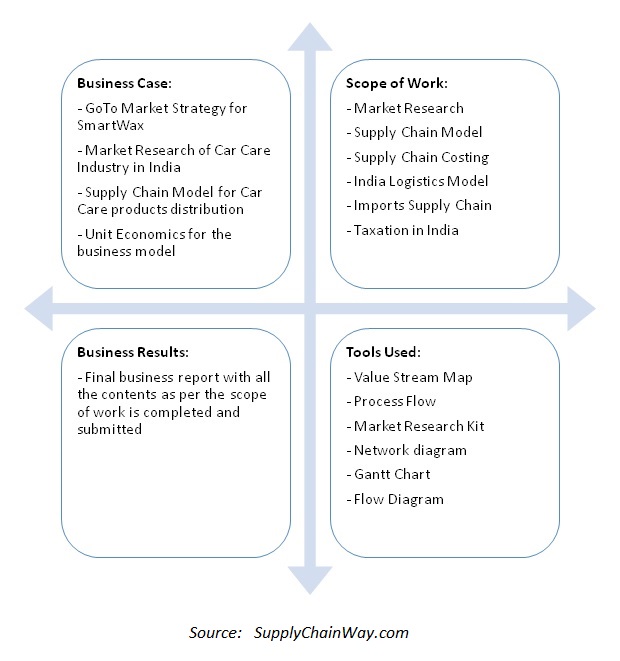 Business Case:
Go to Market Strategy for the automotive giant
Market Research of Car Care Industry in India
Supply Chain Model for Car Care products distribution
Unit Economics for the business model
Scope of Work:
Market Research
Supply Chain Model
Supply Chain Costing
India Logistics Model
Imports Supply Chain
Taxation in India
 Business Results:
Final business report with all the contents as per the scope of work is completed and submitted
Tools Used:
Value Stream Map
Process Flow
Market Research Kit
Network diagram
Gantt Chart
Flow Diagram
About the company
The automotive giant is born in California U.S.A and now available in 56 countries. The company specializes in…
High End Detailing
Paint Defect Removal
Show Car Refinishing
Windshield Repair
Paint Protection
Headlight Restoration
Scratch Remover
Odor Removal & more…
India's Car Aftermarket Overview
India's car aftermarket is totally fragmented unlike markets in countries like the US and the annual market size of car detailing including car care items is estimated to be 375 crores in FY 2014-15 from 200 crores in FY 2013-14 and is expected to be 1200 crores by 2020, growing at 30% CAGR.
There are no national level players of any significance in car detailing except for 3M and a few organized players are beginning to emerge. In accessories and car care items, there are online players like Autofresh.in and carindiaaccessories.in displaying products of 3M India, Formula1, Meguairs, Angelwax, Collinite, Optimum Polymer technologies, ArmorAll, Carzspa. Reliance Autozone is trying to build a brick and mortar.
Apart from the above options for selling the car care products, there are three major E-Commerce players who display the car care items, namely Flipkart, Amazon and Snapdeal. The Car Care market has very attractive dynamics with a gross profit of 50% available to retailers.
To know more or if you need a detailed report on the market, please reach us at www.supplychainway.com
Business Results
Successfully completed the Go-To Market India Strategy for Smart Wax; the following are the details which are part of the final report:
Understand SMARTWAX product portfolio for India
About the Business & Product Portfolio
Business Objectives in India
Current Status & Overall Budget allocation
Research on E-Commerce Industry
Indian E-Commerce Scenario
Indian Retail Industry Overview
E-Commerce Business Models in India
Top E-Commerce Players in India
E-Commerce challenges in India
Vendor on Boarding Process
Market Study of Automotive Product (Relevant to SMARTWAX Portfolio)
Indian Passenger Vehicle Market
Car care industry size and forecast
Top players in car care products
Top online players for car care products
Top E-Commerce players for car care products
Summary of car care industry and products
Business model – 3M and Meguiar's
Risk Analysis
Import Process
Import licensing procedures
Tax structure and valuation
Import of Product
India Strategy for SMART-WAX Portfolio
Strategy: Short-term
Cost Benefit analysis of different Business model
Offline | Online, Inventory Model | Marketplace
Business Model for SMARTWAX Products
Supply Chain Model – Inbound & Outbound / Logistics Model
Phase-wise Expansion plan
Financials
Supply chain costing – Warehousing, Logistics and Handling
Channel Costing
Product costing for India / Margins
Implementation Plan
Snapshot of the Report: